Cameron Diaz
Birthdate: August 30, 1972
Birthplace: San Diego, CA
Occupations: Actor, Model

Model-turned-actress Cameron Diaz seemed to come out of nowhere when she made her 1994 screen debut opposite Jim Carrey in The Mask. However, her unusual beauty--the result of her Cuban-American and Anglo-German-Native American parentage--helped to ensure that she would not be soon forgotten.

Born in San Diego, California on August 30, 1972, Diaz left school at sixteen to become a model. For the next five years, she traveled the globe, working in Japan, Australia, Mexico, Morocco, and Paris. As a model for the Elite Agency, she did commercial work for such products as Coke, Nivea, and L.A. Gear.

She returned to California at the age of twenty-one and was unknown in the film industry when she was cast in her breakthrough role as the target of Jim Carrey's hyper-animated lust in The Mask. Following the hoopla surrounding her performance--or, more specifically, her physical appearance--in the film, Diaz opted to take acting lessons and appear in a series of small, independent films, including The Last Supper (1995), She's the One (1996), and Feeling Minnesota (1996).
After starring opposite Ewan McGregor in Danny Boyle's A Life Less Ordinary, Diaz further endeared herself to audiences and critics with her performance in My Best Friend's Wedding (1997). Proving herself an acceptable foil for the film's star, Julia Roberts, she went on to greater success in the Farrelly Brothers' There's Something About Mary in 1998. Starring as the film's titular heroine, Diaz turned in an audience-pleasing performance in the cheerfully bawdy film, which proved to be one of the year's biggest box-office successes. The same year, Diaz made a cameo appearance in Fear and Loathing in Las Vegas and starred as Jon Favreau's unhinged Fianc in the black comedy Very Bad Things. Now fully established as one of Hollywood's hottest properties, she went on to take lead roles in 1999's Being John Malkovich, in which she played puppeteer John Cusack's wife, and Any Given Sunday, in which she played the president and co-owner of a football team in Oliver Stone's paean to American football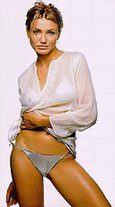 Claim to Fame:

Started modeling at age 16; signed with the Elite Modeling Agency; in the early '90s, she appeared on several magazine covers and in commercials.
Feature acting debut: The Mask (1994).
Spouse:

Former Fianc: Matt Dillon, actor; together from 1996 to 1998
Recent Movies: