Austin Powers: International Man of Mystery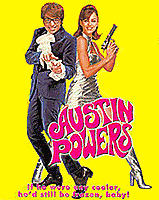 Right click the link and choose "Save Target As..."

Order the Austin Powers DVD now from Amazon.com and save 15%!

Trailer 9.1 Mb. - QuickTime
Trailer 11 Mb. - Video for Windows
That's A Man, Baby! 5.1 Mb. - QuickTime

Copyright © 1996-2015 Tal Ater. All Rights Reserved.
Reproduction in whole or in part in any form or medium without express written permission of Tal Ater is prohibited.