Catherine Zeta-Jones
Birth Name: Catherine Zeta Jones
Birthdate: September 25, 1969
Birthplace: Swansea, Wales
Occupations: Actor

As one of the United Kingdom's most respected and popular actresses, Catherine Zeta-Jones has gained prominence in the United States with her role in one of 1998's most popular feature films, The Mask of Zorro!

Acting Background: She began acting at age 11, playing the lean in a production of Annie and at 13 starredin a West End production of the musical Bugsy Malone.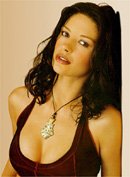 When Catherine was 16 she took over the lead in David Merrick's 42nd Street. Her first regular television role came in the nostalgic British TV series The Darling Buds of May. While the U.S. audience was unaware of her work, Catherine was rapidly becoming a star in the UK. In fact, with the popularity of The Darling, Catherine became a mega-star in the UK.With her role in the four-hour television docu-drama Titanic, Catherine got noticed in the United States. Most importantly, she was noticed by Steven Spielberg, who recommended Catherine for the female lead The Mask of Zorro. Now everyone knows Catherine Zeta-Jones.
Claim to Fame: Played seductress opposite Antonio Banderas in The Mask of Zorro (1998)
Spouse: Michael Douglas (18 November 2000 - present) 2 children
Recent Movies:
The Legend of Zorro
Ocean's Twelve The Terminal Intolerable Cruelty Chicago